Hi, I am Alejandra (she/her). Proud Latinx from Colombia, South America. After working for several years with different inpatient and outpatient mental health organizations, I realized that I wanted to create a unique therapeutic space to work with Latinxs and particularly, Latinx women. This is why I decided to create Shaya Psychotherapy. The word Shaya comes from the Quechua language, spoken in South America, and means,"The woman that always stands tall" or "Erguida, La que siempre se mantiene en pie." This word perfectly aligns with my goal of offering a safe space for Latinx women to celebrate and embrace our culture while addressing aspects of their lives that are keeping them from thriving. This therapeutic space is a judgement-free zone where you can safely talk about your concerns, challenges, and fears. I understand the unique struggles that we as Latinxs face day by day and I want to be able to provide you with strategies and tools that really work for you.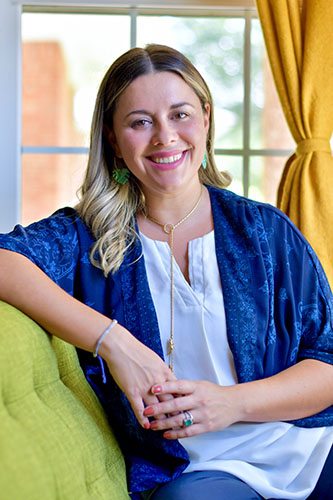 Some frequent ideas and conceptions about therapy...
I received my Bachelor of Science in Psychology from Pontificia Universidad Javeriana in Bogotá, Colombia and a master's degree in Clinical Psychology from the University of Houston-Clear Lake.  Throughout my career, I have held multiple positions in inpatient and outpatient mental health organizations including supervisory positions.
My therapeutic approach is client-centered, culturally-humble, and trauma-informed. I have solid training in trauma-focused therapy including Trauma-focused behavioral therapy (TF-CBT), Phase-based trauma treatment, and cognitive processing therapy (CPT). 
Additionally, I incorporate elements of social justice, racial trauma healing, mindfulness, and other mind-body-soul techniques. I also like to explore the power and influence of ancestral healing and intergenerational healing practices. I recognize the value of ancestral knowledge as part of the  healing journey  of communities of color.
Sessions are conducted in English and/or Spanish. I acknowledge the unique needs of bilingual individuals and the advantages of communicating  our memories, thoughts, and emotions in the language these were originally stored or experienced.
I am an LGBTQ+ ally.
Credentials and certifications